COTTON OR FLEECE, WHAT IS THE BETTER MATERIAL?
Is your baby sweaty in their sleep bag? Synthetic fibers like fleece and polyester are good insulators but absorb moisture in very small amounts and hence are the least desirable fabrics touching your babies skin. All of our bags have a cotton inner shell. With our sleep bags only soft jersey 100% cotton touches your baby's skin, allowing for as comfortable sleeping experience as possible. If babies are comfortable, they tend to sleep longer. So enjoy that extra rest!
CHOOSING THE RIGHT THICKNESS AND WARMTH
We need to find the right thickness and warmth first. The Tog rating or weight of a sleep bag determines its thickness and therefore how warm it keeps your child. The higher the Tog rating (weight) the warmer the sleep bag. We are referrign to winter models as double layered and quilted bags with a warm and plush Polyester filling. Summer models are not quilted.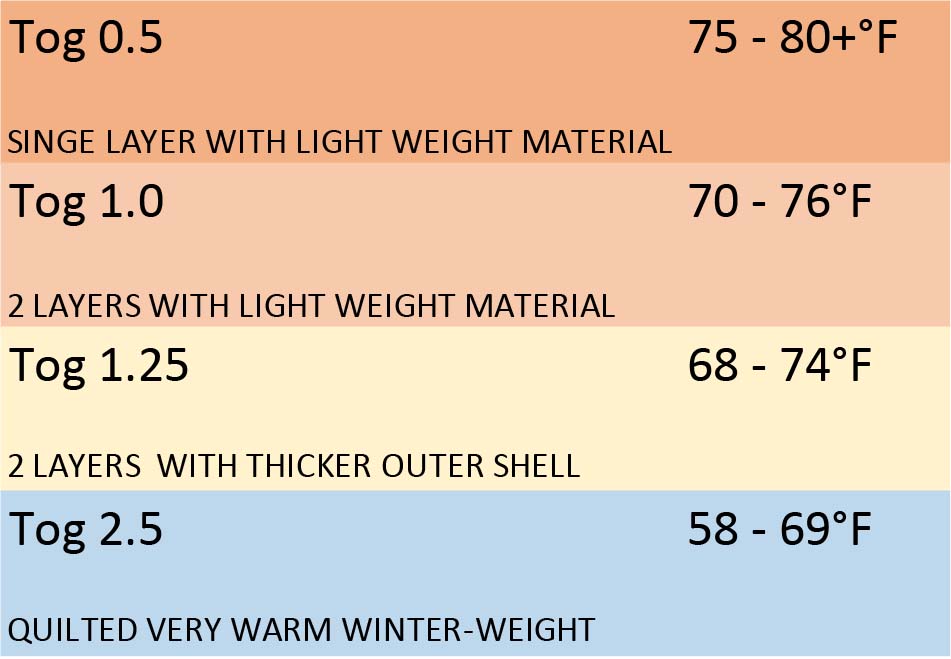 SIZING CHART BY WEIGHT AND LENGTH
Please measure your little one from head to toe and match the length of your baby with the corresponding size next to it. Please do NOT buy one size up! The bag will not fit until your little one reaches the right age. The bags will start to fit once your baby reaches about 3 months old. It is generally recommended to swaddle your infant for the first 2 to 3 months or when they start ro roll.